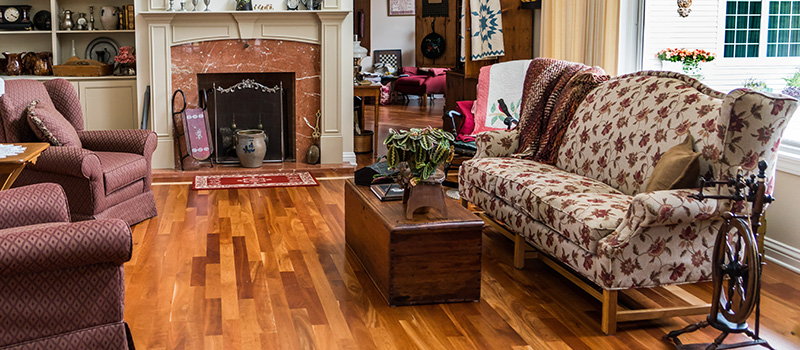 Tips for Better Independent Living in the Living Room
ADHME Guide to Independent Living Part 3
As we age, we can begin to feel like independent living is getting harder to manage. That does not need to be the case if you prepare your spaces for safety and security. Whether you are updating your own home or helping a loved one, these tips for independent living can make your living room accommodate you for years to come.
When you enter your living room, you want a space that welcomes. A few simple fixes can take a space from adding anxiety to your day to a place where you feel at relaxed and calm. Making sure you can accomplish all you need to do in a day is a key part of remaining independent. Leisure time activities are a mainstay of the living room, and those often centered around entertainment and communication.
Sitting and Standing
The first part of creating a living room that provides everything you need is to make sure you can sit comfortably, then stand up with ease. Balance issues, recovering from injuries, or loss of strength can make this simple task a huge hurdle. A few items and some pre-planning can help overcome them to give you a place to relax.
For those who would like to use their own living room seating, seating assistance comes in two categories. First, you can use a lift, which rests under you on your chair. The other option is a pole or handle next to your chair for assistance in rising. You can also use the two in concert to make sitting and standing easy.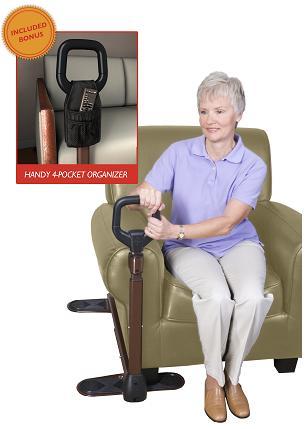 Poles and Handle Assists
A

couch cane standing handle

installs on either side of your couch or next to your favorite chair. Held in place by the feet of the couch itself, this assist device will support your weight as you rise, with room on the generous-sized handle for both hands if needed.

If you want to have handles at various heights to assist you as you rise, then

a floor to ceiling grab bar is ideal

. These have four or more hand positions so you can shift and adjust as you rise. Installed without tools, they use tension mounting and fit ceilings from 7 to 10 feet in height.
Seat Lifts
If you don't need an electric self-powered lift, then the Upeasy seat assist may be your best option. It supports up to 70% of your body weight as you rise, allowing you to maintain balance.

The

Upeasy power seat electric lift

by Carex is an electric-powered lifting seat that fits almost any armchair or sofa. Even if your balance or strength are not what they were, you can still keep your independence of movement.
Recliners
Full tilt lift chair recliners 

provide a more comfortable overall experience because they eliminate the need for something between you and the seat. You still get the assist in standing, but with a tilt recliner the whole chair rises to help you when it's time to get up. You can even add options like in-seat heating for those who are chronically chilly or massage.

Three-position recliners

 are specifically designed for those who are unable to move easily on their own yet want to stay involved in the daily activities of the house.  They offer the ability to change from upright to partially reclined for reading or TV watching, to fully reclined for rest as needed. As a result of shifting positions, the patient benefits from increased circulation and remains more comfortable for longer periods of time.
Entertainment & Organization
Our living area is where most of life happens. In order to enjoy it, we need to not only be comfortable, but also have those things we use regularly within easy reach. Nothing is more frustrating than getting settled in to read a good book, watch the next episode in our favorite show, or get ready to call the kids only to find you are missing your glasses, the remote or the phone. Here are some things to help you stay comfortable and organized in your living area.
Binge watching or reading and sitting in one position too long can result in a bruised tailbone or pressure sores. These make relaxing in your living room no fun at all. To combat sore spots from sitting too long before they occur,

a foam chair cushion

is a great item to have. Simply place it on the seat before you sit down, and rest comfortably for hours.

Nightstand organizers work well in the living room too. Many have a charging port for your phone or tablet along with plenty of designated spots for things like glasses and pens.

An armrest caddy can be as simple as a couple of pockets in cloth material draped over the arm of your couch, or it can be an intricate multiple-compartment plastic contraption. There are wooden and wicker options, and even those that come with a writing surface.

If you have a

cane stander

, this even comes with an organizer pouch that straps onto the handle for easy access to your items.

A surface for writing, reading, or placing your laptop is a great idea. Unfortunately, having a table in front of your sitting ear can make it difficult to get up and down. A

rolling table

answers all these issues. Move it out of the way to sit or stand up, and pull it into place once you are settled.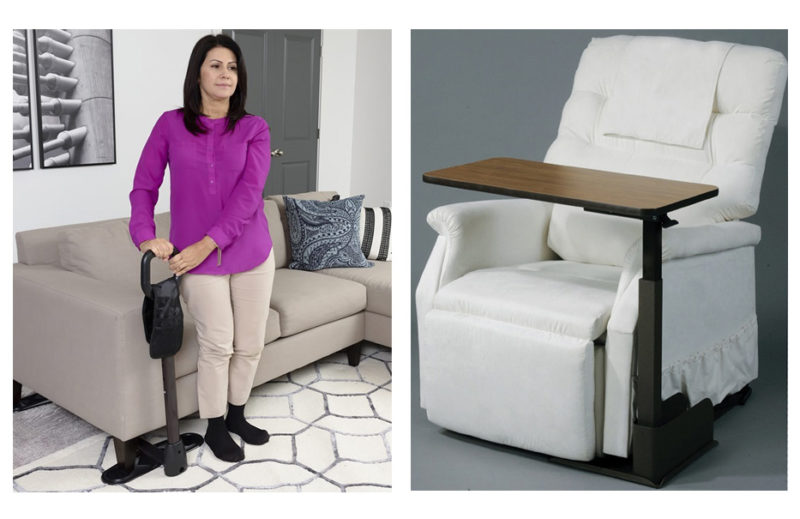 Living room safety & security
Keeping your living area secure is another aspect of independent living. It only takes a few small steps to prepare for the best outcome.
 Make sure all your carpets are flat and securely attached to the floor. We recommend

rug anchors

to "velcro" your rugs to the floor. You can get them at Home Depot.


Install lighting along hallways to and from the living area. While turning on the overhead light may be an option, it's better to have an always-on set of lights or motion detector lights. Install these at ankle height at intervals so even if you get up in the middle of the night, you will be able to see to walk around your home. We like these from Hammacher. They are battery operated and can be placed anywhere. 

Make those side table lamps easy to turn on with large turn knobs, or switch out your knobbed lamps for those with a push button. Or our favorite, you can also opt for a "smart" lamp. What's easier than simply saying "Alexa, turn on the light!"

Install a

security camera at the front door

. You don't want to feel the need to jump up and dash to the door if it's not someone who you feel comfortable answering. Many cameras now link to your tablet or phone so you can see who it is before getting up.
In summary
With a little bit of forethought and some simple fixes, you can add security and comfort to your everyday living, making your living room a place to enjoy relaxing in.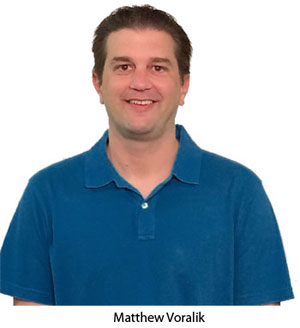 Matthew Voralik grew up working in the brick and mortar store after school and during the summers. When most boys his age were playing video games, he was assembling wheelchairs and hospital beds and showing people how to use all the things they sold in his dad's store. Today he does the same thing for his online customers. This also makes America Discount Home Medical uniquely qualified to select and recommend the best products for our customers.
Tags: independent living guide